Plants have the amazing ability to recover from almost anything under the right conditions.  One of the easiest ways to reproduce a bonsai for FREE is to grow it from cuttings.  In this process, you place a small limb that you cut off into the dirt, and over time it will grow its own roots.  This is very common in plant nurseries because you can mass produce plants for very little cost.  They also use this technique to reproduce certain strands of plants.  The cuttings will have the exact same DNA as the plant they were taken from, which is different from a plant grown from seed which takes DNA traits from two plants like a human.  Growing bonsai from cuttings is very simple and anyone can achieve great results.
1.) Trim your bonsai tree as you would normally, placing the trimmings into a bowl of water as they fall.  Only keep the cuttings that are at least 3 leaf nodes long, or have at least 3 sets of leaves.  The optimal size for most trees is five or six nodes long.  The roots will come from those leaf nodes, so it is important to ensure at least 2 nodes are in the ground.
2.) Remove the leaves from the bottom two leaf nodes of the cutting.  Just lightly pinch the branch and slide your fingers down.  The leaves should separate easily and can be discarded.
3.) Dip the cuttings in some rooting hormone if available, up to the second leaf node.  This is not absolutely necessary to achieve good results, but it will increase the chance of survival.   This product will help provide the nutrients the cutting needs faster.  Let the cutting soak for three to five seconds before removing.
4.) Stick the cutting straight into the dirt, 2 nodes deep if possible.  Press down on the dirt around the cutting to ensure that it will stay standing.
5.) Place a plastic barrier around the pot to trap in moisture.  If you are using a pot, plastic bags work well for this.  Just place the pot in the bag and tie it tight.  If you are using a tray, then a humidity dome will work well.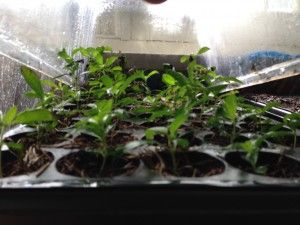 6.) Place your trees in a shady area so they can root.  Water them regularly, and mist the leaves if you notice that they are wilting.
7.) Check your cuttings after about a month, depending on the species, to see if they have rooted.  The best way to do this is by giving them a little tug to feel for resistance.  Once all cuttings in your container are rooted, remove the humidity dome and continue to water as normal.
8.) Repot the cuttings into separate pots next spring.  It is possible to repot them after they have rooted but the roots are very delicate and you will inevitably lose some.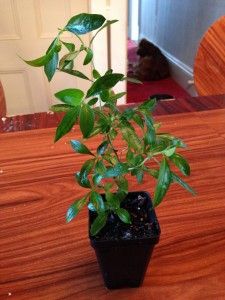 Tips:
Humidity is the key!  Your trees will not have roots to absorb water, so they will absorb water through their leaves during this process.  I mist my cuttings every day, ensuring I see water droplets on the leaves so they are moist enough.
Once the cuttings have rooted, the large amount of humidity can cause mold issues quickly.  Remove the humidity dome as soon as cuttings are rooted.
Use a sharp knife or sheers to cut the bottom of the cuttings at an angle before sticking in the dirt.  This will make it easier to push them into the dirt.
This is best done with softwood cuttings.  These are cuttings taken while they are still green and haven't hardened yet.  It will work with hardwood cuttings, but results may vary from softwood results.